'Before' shot / Head and Shoulders Pattern spotted on 11/9/01
'After' shot / Head and Shoulders Pattern breakout on 9/13/01, low on 9/15/01
In this example I show a 'before' view and the subsequent 'after' view. I have found the head and shoulders pattern to be one of the most reliable patterns to trade.
---
What's interesting is that this pattern was spotted on 11/9/01 ('before' chart), two days before the dramatic sell-off. It was published and sent to subscribers in chartpatterns.com's Pattern Recognition Services Weekly Newsletter. To get alerted to high probability patterns like these and others you see on this site, simply subscribe to the Pattern Recognition Services Newsletter and have approximately 20-25 patterns sent to you every Sunday so you'll know what's hot and what's not for the coming week.
---

HEAD AND SHOULDERS AS A REVERSAL PATTERN IN AN UPTREND (BEARISH)
IBM / Int'l. Business Machines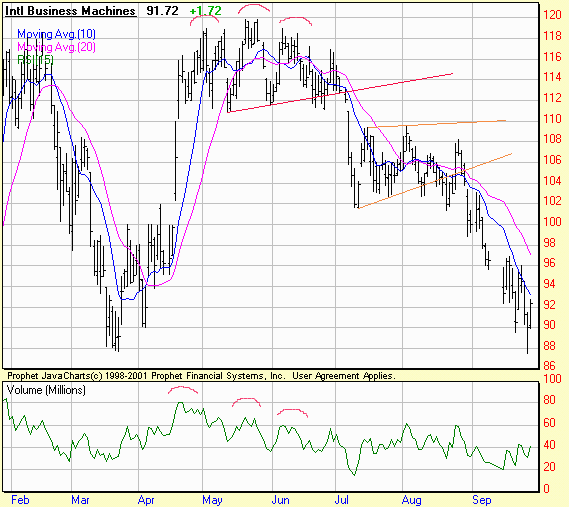 Head and Shoulders in an uptrend (bearish). This one had sell written all over it. Notice the dissipating volume on the "tops". The first close beneath the neckline was followed by a dramatic sell-off. And check out the big spike in activity on the collapse. The basing (rising wedge in a new downtrend) after the dump was nothing more than a breather before the next crash lower. And the signature volume spike on the downside breakout was evident as usual.
---
The information contained here was gathered from sources deemed reliable, however, no claim is made as to its accuracy or content. This does not contain specific recommendations to buy or sell at particular prices or times, nor should any of the examples presented be deemed as such. There is a risk of loss in trading stocks and stocks options and you should carefully consider your financial position before making any trades. The reference to statistical probabilities does not pertain to profitability, but rather to the direction of the market. The size and the duration of the markets move, as well as entry and exit prices ultimately determines success or failure in a trade and is in no way represented in these statistics. Furthermore, no representation is being made that any of the examples shown resulted in actual trades. This is not, nor is it intended to be, a complete study of chart patterns or technical analysis and should not be deemed as such.
---
Stock trading involves high risks and you can lose a significant amount of money.
---