CHART EXAMPLES OF WEDGE PATTERNS / STOCKS
---

FALLING WEDGE IN AN UPTREND (BULLISH)
HLTH / WebMD Corp.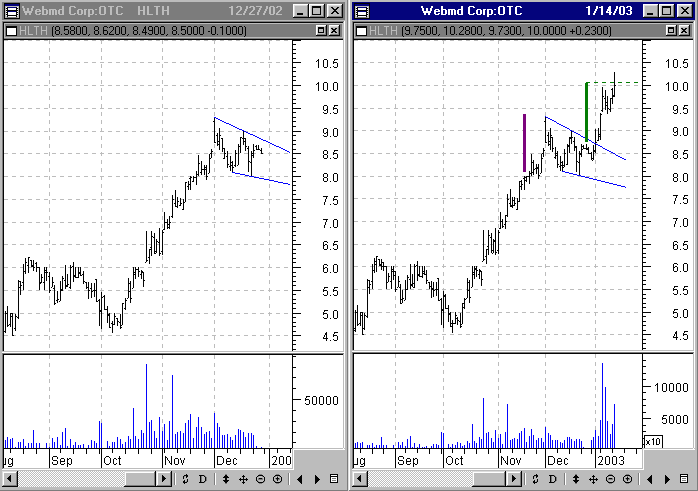 Falling wedge in an uptrend (bullish). From PRS, Vol. 2, No. 47, for the week of 12/30/02.
---

RISING WEDGE IN A NEW DOWNTREND (BEARISH),
(AFTER A BULLISH ASCENDING TRIANGLE IN AN UPTREND)
IMCL / ImClone Systems, Incorporated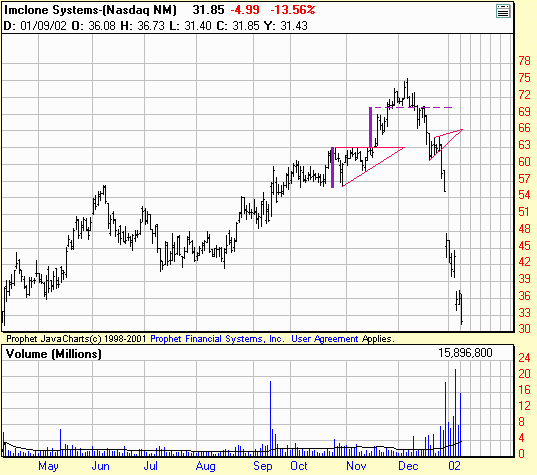 After a bullish ascending triangle in an uptrend (from the Pattern Recognition Services Newsletter, Vol. 1, No. 2, for the week of 11/12/01), reached and surpassed it's measured move target of $69.76 (base of $6.88 added to the breakout point of $62.88 for a measured move target of $69.76), and actually surpassed it, the market then came crashing down, below the earlier surpassed price target (which had became your new support or stop-out point [see purple hashed line]), it then based in the same area as it's previous bullish consolidation. It quickly traced out a bearish rising wedge before just absolutely collapsing. The ensuing free-fall took place on huge volume. (Notice how the volume actually started picking up as it pulled back from it's highs. That alone was a signal that the bull run was waning.) The push below the 'old' price target on it's way down (your 'stop-out' point), was your signal to get out. The rising wedge formation was a clear foreshadowing of lower prices to come and to get short (or at least your last chance to get out). I'm sure many people rode this once 'winning' stock too long and ultimately turned a great and profitable bullish trade into a terrible loser. But if you followed chart pattern analysis, you probably would have done great, ... on both sides! For more information on chartpatterns.com's Pattern Recognition Services Newsletter, click here.
---

RISING WEDGE IN A DOWNTREND (BEARISH)
CPN / Calpine Corp.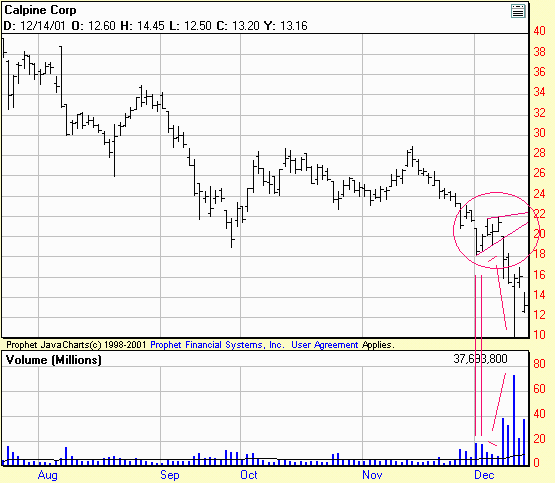 Just when you thought that it couldn't go any lower, ... it does. Rising wedge in a downtrend (bearish). Down over -$8.00 in just 5 days. (Notice the spike in volume on the lows of the pattern, the diminishing volume on the creep up and the huge jumps in volume on it's breakout and collapse lower!)
---

---
The information contained here was gathered from sources deemed reliable, however, no claim is made as to its accuracy or content. This does not contain specific recommendations to buy or sell at particular prices or times, nor should any of the examples presented be deemed as such. There is a risk of loss in trading stocks and stocks options and you should carefully consider your financial position before making any trades. The reference to statistical probabilities does not pertain to profitability, but rather to the direction of the market. The size and the duration of the markets move, as well as entry and exit prices ultimately determines success or failure in a trade and is in no way represented in these statistics. Furthermore, no representation is being made that any of the examples shown resulted in actual trades. This is not, nor is it intended to be, a complete study of chart patterns or technical analysis and should not be deemed as such.
---
Stock trading involves high risks and you can lose a significant amount of money.
---